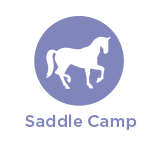 Whether your child is just trying it for the first time or they have experience with horses and riding, we offer camp programs to suit each child's ability. Our instructors provide an enjoyable and, positive learning experience incorporating games and fun activities into the lesson plans. Horses and ponies in our program are gentle natured and experienced with all levels of riders. Earthbound offers two programs – Saddle Club for ages 6 to 12 years and Saddle Skills for ages 8 to 13 years.
Saddle Camps feature: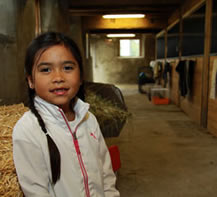 Qualified riding instructors
135 x 80' Covered riding arena
Outdoor fenced sand & grass riding rings
Experienced horses and ponies
English riding equipment, all with safety stirrups
Stable management & horsemanship opportunities

Helmets available for rent (for your camper's use ONLY)

Arts & crafts, garden activities and small animal demonstrations

Recreational free swim (NLS lifeguards on duty)
Use of all playing fields, courts and ball pits
Saddle Club (6 to 12 years old)
This is a beginner-friendly program for children age 6 to 12 years of age. Afternoons will be spent in the barn with the horses. Participants will enjoy a daily 45-minute riding lesson, along with horsemanship and stable management activities. The goal of our programming in this camp is to introduce riders to good safety practices, to develop basic riding skills such as balance and control and to help riders feel comfortable and confident while working around the horses & ponies.
Participants can be of any level of riding. Children are grouped according to riding experience and age. While we do our best to accommodate friend requests, if children are at different rider levels this may not possible.
Daily Schedule:
Arrival/Horse-play (9:00 am to 9:30 am)
Arts and crafts in the craft loft
Wash-up/Snack
Active play – playing fields, gaga ball, hockey dome
Garden/Small animals
Free Swim
Lunch Time (12:00 pm to 1:00 pm)
Riding Lessons
Wash-up/Snack
Horsemanship/Stable Management
Home-time (4:00 pm to 4:30 pm)
Camper / Counsellor Ratio: minimum of 1 counsellor for every 8 children. While mounted on the horses, staff/child ratios are 1:4.
Schedules are examples of a typical day, actual activities may vary from day-to-day.
All riders must wear:
ASTM approved helmet (helmets are available to rent)
Long pants and riding boots OR boots with a small heel (Rainboots are acceptable as long as they have a 1.5cm heel)
Rental Helmets are reserved for your child's use ONLY throughout the week – the cost is $15+HST
Other items to bring to riding camp include:
Shorts, sweatshirt or rain jacket
Running shoes, extra socks
Sun hat, sunscreen and water bottle
Bathing suit, flip flops and towel
Coronavirus Safety Protocols
In order to ensure the safety of campers and staff, our 2022 camps will follow public health recommendations and the Province's emergency orders, COVID-19 precautions. Learn more about the protocols that will be in place to reduce the spread of the virus here.
2023 Fees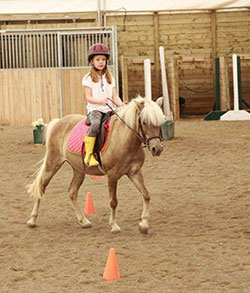 Summer Saddle Club (6-12 yrs):
Week 1, 2, 3, 4, 5, 7, 8, 9 – $485/week
Week 6 – $388/week
For Bussing, After Care, Meal Plan and online Registration see 'How to Register'.
How to Register