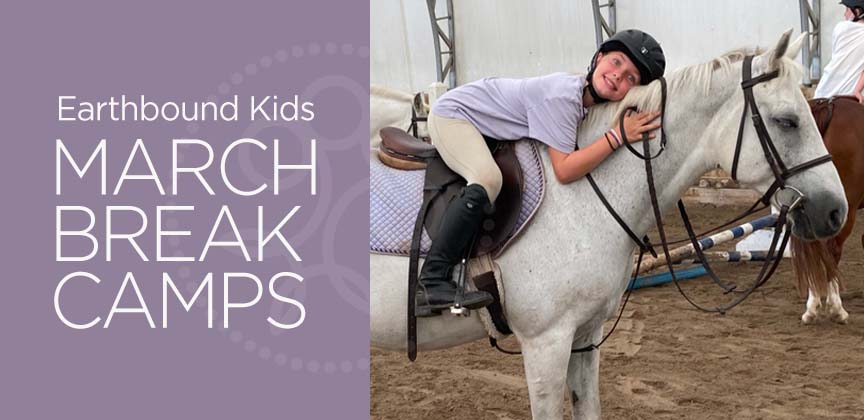 Our March Break camps will take place from Friday, March 10 to Friday, March 17, 2023 (excluding weekends). Campers will enjoy the warmer weather and get a start on planting in our organic farm garden! Earthbound Kids offers both Saddle Club and Camp Treetop programs over the spring break.
Saddle Club Camp

All riding levels are welcome – Beginner to Advanced! Ages 6-12. Camp includes a 45 minute riding lesson with our head instructor and Show Team coach, Jessica Glassford.
Camp includes:
Daily Activities
Pony Rides
Arts & Crafts
Garden and Small Animals Activities
Multi-Sports (Basketball, Floor Hockey, Soccer…)
Free Play at the playgrounds and bike tracks
---
Treetop Camp

Join us for another fun-filled PA day at the Earthbound Farm! Ages 4-12 years are welcome.
PA Day Camps include:
▪ Daily Activities
▪ Pony Rides
▪ Arts & Crafts
▪ Garden & Small Animals Activities
▪ Variety of sports including basketball, floor hockey and soccer*
▪ Free time at the playgrounds and bike tracks*
*weather dependent on some outdoor activities
Before & After Care available for all camps.
Bussing available from All About Kids Cornell (Markham) location.
Earthbound Kids is a nut-free environment. Campers are asked to bring a nut-free lunch and two nut-free snacks.
Coronavirus Safety Protocols
In order to ensure the safety of campers and staff, all programming will follow public health recommendations and the Province's emergency orders, COVID-19 precautions. Learn more about the protocols that will be in place to reduce the spread of the virus here.
2023 Dates
Friday, March 10
Monday, March 13
Tuesday, March 14
Wednesday, March 15
Thursday, March 16
Friday, March 1
Registration Fees

Registration available for single days or the full week. Each day will be different so that those who attend the multiple days have something new and exciting to look forward to!
9:00 am to 4:00 pm each day (before & after care available)

Camp Treetop
$80/day
Saddle Club
$90/day
Add-Ons
$15 +HST Per Day Helmet Rental
$15 +HST Per Day Meal Plan
$13 Before Care (7 am to 9 am)
$13 After Care (4 pm to 6 pm)
$25 Before & After Care