Birthday Parties at Earthbound Kids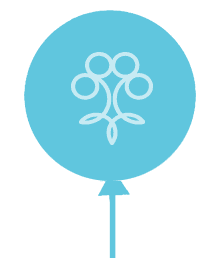 Earthbound Kids is the perfect place for a party, whether it's for five little crafty girls or fifty sports-crazed boys. Our 12 acre facility has indoor and outdoor options so rain or shine the party will go on!
All parties include use of the Earthbound farm facility: craft loft, playground, sand pit, tricycle track, picnic areas, farm animal area, sports fields and courts. If you'd like to incorporate a special activity such as horseback riding or have an Earthbound leader at the party to referee sports or help with crafts we can arrange that too. Parties can be booked mid-April to mid-November.
Let's get your party started!
Start by choosing your party package, then fill out our quick and easy booking request form.
We'll get back to you to discuss your party options right away!
Note: All pricing subject to HST
Summer 2022
We thank you for your interest and are thrilled to host your event
however due to volume upcoming spaces this summer are very limited. We are unable to accommodate parties with more than 12 children/25 guests total.
Earthbound Party Packages

Create your own Perfect Party
$300 | Party includes:
2 hour use of the Earthbound farm facility
up to 20 guests
additional guests $5 per person
additional hour $150
Then from there you can add things like:
Pony Rides $75 per 12 children (handlers provided by Earthbound)
Farmyard Visit $40 per 12 children
T-Shirt Painting $10 per child
Loot Bags starting at $10 per child
Add a Craft $5 per child
Peanut-free Cupcakes or Birthday Cake $4 per child
Pizza Lunch $10 per child, $15 per adult
Climbing Wall (equipment & trained operators) $175 hr
Zip-lining (equipment & trained operators) $175 hr
Wagon Ride $60

$375 | Party includes:

2 hour use of the Earthbound farm facility
up to 12 children
pony rides
s'mores around a real campfire
farm themed craft
additional children $5 each
additional pony $75 each

$300 | Party includes:

2 hour use of the Earthbound farm facility
up to 20 children
choice of two sports (basketball, hockey, soccer, gaga ball)
use of sports equipment
supervision by an Earthbound attendant
additional children $5 each
additional sport $40 each

Ages: Pre-K to Grade 2
$375 | Party includes:

2 hour use of the Earthbound farm facility
up to 12 children
choice of pony rides or farm themed craft
garden and farm animal tour
interactive experience with one of our bunnies or guinea pigs
supervision of all activities by an Earthbound attendant
additional children $5 each
additional pony $75 each

$375 | Party includes:

2 hour use of the Earthbound farm facility
up to 5 children
learn how to groom and tack a horse
45 minute riding lesson with an Earthbound instructor
includes use of a riding helmet
additional children are $75 per lesson (and an additional half hour)
Book Now


$375 | Party Includes:

2 hour use of the Earthbound farm facility
up to 12 children
use of the BMX/Scooter trails
bike/scooter rentals & helmets
supervision by an Earthbound attendant
additional children $5 each