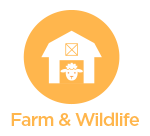 A hands-on experience for young people from 8 to 12 years of age who want to make the world a better place for animals. Each day we explore and seek to understand our own connections to animals who live on the farm, in our homes and in the wild.
Camper/Counsellor Ratio: minimum of 1 counsellor for every 8 children.
Daily Programming
Real Farming – sharing in responsibility for the daily care of the alpacas, rabbits, chicken, pigs and sheep

Hands-on Investigation of animal habitats, behaviour & herd relationships
Lunch
Swimming or free-play
Exploring wildlife, birding, tracking
Nature art and bush-craft
Horseback riding & horsemanship
With weekly visits from:
Animal rescues
Community helpers and veterinarians
Local farmers and aviaries
Coronavirus Safety Protocols
In order to ensure the safety of campers and staff, our 2021 camps will follow public health recommendations and the Province's emergency orders, COVID-19 precautions. Learn more about the protocols that will be in place to reduce the spread of the virus here.
2023 Fees
Summer Pricing for Farm & Wildlife Program:
Week 1, 2, 3, 4, 5, 7, 8, 9 – $450/week
Week 6 – $360/week
How to Register