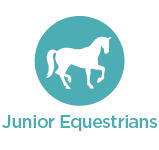 Learn all that you need to know for show day!
This camp is for riders aged 8 to 13 years who are interested in getting into competitive riding or improving their competitive riding level. Riders will receive one hour of instruction each day from Jessica Glassford, head show coach at Earthbound Stables. Riders will showcase their skills at the end of the week to staff and parents.
Campers will learn to look after their equine teammate, ensuring that they are taken care of for optimal performance. At the start of each session riders will set their goals for the week with Jessica and will also have the opportunity to meet a special guest such as a show judge, equine nutritionist, professional braider or equine veterinarian. By the end of the session your rider will have more in depth knowledge on showing and experience greater confidence in their showing abilities.
Camper / Counsellor Ratio: minimum of 1 counsellor for every 10 children. While mounted on the horses, staff/child ratios are 1:5.
Program Pre-requisite: Riders must be able to canter independently.
All riders must wear:
ASTM approved helmet (helmets are available to rent)
Long pants and riding boots OR boots with a small heel (Rainboots are acceptable as long as they have a 1.5cm heel)
Rental Helmets are reserved for your child's use ONLY throughout the week – the cost is $15+HST
Other items to bring to riding camp include:
Shorts, sweatshirt or rain jacket
Running shoes, extra socks
Sun hat, sunscreen and water bottle
Bathing suit, flip flops and towel
2020 Fees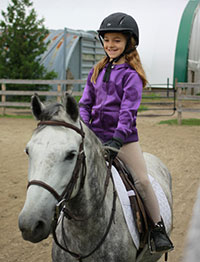 Summer Junior Equestrian Program:
Week 2, 3, 4, 5, 8 – $475/week
For Bussing, After Care, Meal Plan and online Registration see 'How to Register'.