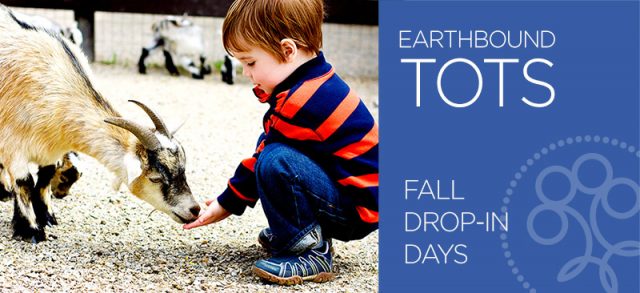 Special programming geared especially for parents with young children. Come out to Earthbound Kids and enjoy a morning on the farm with your little ones!
Join us for our Fall Parent & Tot Drop-In Days at Earthbound Kids!
Parents with young children can enjoy the fresh outdoors in a farm setting, meet our friendly farm animals, play in our kids playground and participate in special programming.
Fall program will run Monday and Wednesday mornings until October 16th. Excluding Thanksgiving Monday (Oct 9).
All ages welcome. Programs are geared to toddlers and pre-schoolers.
Fee: $5 per child. Infants 12 months and under free.
Location: Earthbound Kids, 155 Uxbridge-Pickering Townline, Stouffville
Upcoming Dates
September 13 @ 9:30-11:30am – Opening Day Kick-Off!
September 18 @ 9:30-11:30am
September 20 @ 9:30-11:30am
September 25 @ 9:30-11:30am
Visit earthboundkids.ca/kids-programs/earthbound-tots for more info or to sign-up for email notifications on future Earthbound Tots events.