Refer a Friend and Share the Savings!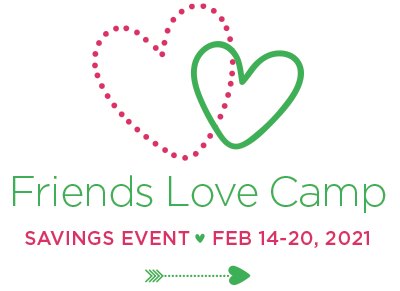 Register between February 14-20, 2021 to receive a special Valentine's Day discount on top of our already reduced Early Bird Rates!
When you register with a friend or sibling receive an additional $10 off BOTH campers registrations! This special can be used for multiple weeks with a savings of $10 per week in addition to our Early Bird Discount of $20 per week.
Discount will apply to all weeks that BOTH campers are registered for. Cannot be applied to existing registrations. This offer is valid for both our Stouffville and Schomberg locations.
---
How to claim your discount
Fill in the form below with your child's information (Camper 1) and your campers friends information (Camper 2). If Camper 2 is being registered by another parent have their parent fill in this form as well (we need a form for each camper!). After your form is complete proceed to our online registration to register your camper! Your discount will be reimbursed to you after your registration.
Offer available between February 14-20, 2021 only. Submissions will only be accepted during this time.
---
Form closed. Please visit us between February 14-20, 2021 to claim your Friends Love Savings discount.